Bathroom Remodel Fircrest
A bathroom remodel is among the most common options for home improvement projects. Bathroom remodeling is an easy and cost-effective way to enhance the value of your home.
Hire the services of a professional bathroom renovation contractor, Joe the Pro Plumbing & Construction. Your Fircrest, WA area home will thank you! We are one of the best bathroom renovation service providers in this area.
Our team of trade experts is well-trained and efficient. Choose us for your bathroom remodel project and enjoy:
Superior workmanship
Affordable charges
Professional services
The thought that remodeling your bathroom will cost you a fortune is simply untrue. Bathroom remodel costs can be well within your budget. We are dedicated to offering exceptional bathroom remodeling plans and products to Fircrest residents. We are not finished until you are completely satisfied.
Bathroom Remodeling Fircrest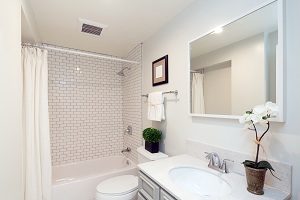 You will find several contractors for bathroom remodeling in the Fircrest community. However, it will be hard to find our perfect combination of quality, professionalism and inexpensive rates.
We can offer you everything that you are looking for. We can transform your bathroom into your dream space. We have earned the reputation of being one of the most dependable bathroom remodeling contractors around Fircrest.
Check out our bathroom remodeling before and after photos to get you started on your way.
When you hire us for bathroom remodeling you get:
Superior quality materials
Properly done installation
A professional project coordinator
Expert consultation
We are sure to do the job right the first time. Hire us to get the bathroom renovation of your dreams.
Fircrest Bathroom Renovation
Give us a call when you are ready for the bathroom renovation in your Fircrest home. A customized bathroom will only augment the value of your house. We can help you with an inexpensive bathroom renovation project.
Let our consultants know your wishes and must-have lists. They will be happy to give you a bathroom remodel cost breakdown.We offer so many options for your dream bathroom, including:
Partial renovations
Complete remodels
Floor & tile remodel
Shower/bath remodel
Your dream bathroom and our great workmanship are sure to make the neighbors jealous.
Call Joe the Pro Plumbing & Construction at (253) 320-8558 to hire us for your bathroom renovation project in the Fircrest area. Together, we can make your dream space.