Bathroom Remodel Puyallup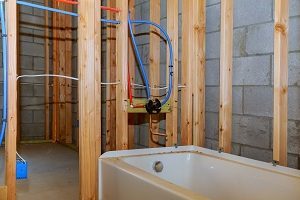 Thinking of doing a bathroom remodel in your Puyallup WA area home? Choosing us for your bathroom remodel is a pocket-friendly way to increase the value of your home. When done by experts, bathroom remodeling ensures all unsafe features or dangerous components in your bathroom are fixed without having to break down the structure.
Joe the Pro Plumbing & Construction is a reputed name when it comes to bathroom remodel and bathroom renovation. With over 3 decades of experience, we revitalize your bathroom and give a new life to it.
Our bathroom renovation is of high-quality with unique designs and custom storage ideas. Our trained staff works with you to understand your requirements and accordingly complete your bathroom remodel and renovation.
Why hire us for a bathroom remodel?
Custom designs
Extensive background in construction and plumbing
100% client satisfaction
Bathroom Remodeling Puyallup
From a simple upgrade to complete bathroom remodeling, we do it all. Known for high customer satisfaction, our contractors have years of experience and use the latest tools and equipment to ensure your property does not get damaged.
As experts in construction, we are well versed with all the latest techniques and are proficient in addressing the complexities of bathroom renovation while ensuring a clean, safe, and a comfortable environment for you and your family.
Once bathroom remodeling for your Puyallup property is completed, we clean the entire area so that you don't face any problems later on. Give us a call and receive a free estimate today on your bathroom remodeling project.
Advantages of remodeling:
Increased value of the property
Modern amenities
Energy efficiency
More space
Puyallup Bathroom Renovation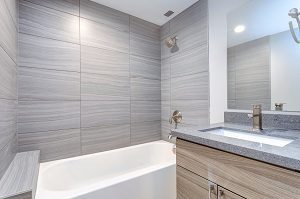 With our bathroom renovation, we will build the bathroom of your dreams in your Puyallup area property. Be it the traditional style or the contemporary chic design with everything modern, our bathroom renovation team knows it all.
From replacing tubs, toilets, showers, and vanities, we ensure your new bathroom is a perfect fit with your home. We use high-quality products from trusted home brands and quality craftsmanship in every step.
Along with remodeling, we also take care of:
Sewer repair
Tankless water heater
Accessibility issues and convenience
Please read our testimonials to learn what our customers think of us. Call us to book our bathroom renovation services in the Puyallup area now.
For a bathroom remodel in your Puyallup area home, reach Joe the Pro Plumbing & Construction at (253) 320-8558. We are known for our bathroom remodeling and bathroom renovation services.