Tankless Water Heaters Ruston
While tankless water heaters have been around for some time, especially in Asia and Europe, as with most appliances the changes in technology and new innovations have brought significant advances to a growing market in the United States.
As part of the professional service community, we adapted to this growing market in an effort to accommodate rising homeowner demand.
These are a few reasons that more and more homeowners are choosing tankless water heaters:
Compact size – small enough to mount on a wall
Long life span – greater than 20 years or double that of a storage
tank style
Performance – limitless hot water
Energy efficiency – virtually eliminates energy waste or standby losses;
up to as much as 30 percent more efficient than a conventional tank style
As a full-service plumber and contractor with years of installation experience, we are fully aware that no product is perfect. If you are a homeowner in Ruston and in need of a new unit, we welcome the opportunity to share our knowledge to help you make the best selection for your home.
Call us today!
On Demand Water Heater Ruston
There are a number of descriptions for tankless water heaters; i.e.," on demand", "instantaneous", or "flash", but they all mean the same – you can have steaming temperatures whenever you need it.
We are a full-service plumber and contractor that specializes in proper set-up. As such, we make a conscientious effort to stay up-to-date with latest state-of-the-art technologies that have a direct relationship to the varieties of products we maintain and service.
Choosing the type of system is significantly dependent upon your understanding of the differences of conventional vs. tankless:
Convenience – conventional units preheat a limited amount of water with
a long time period for refilling and reheating when it runs out; tanklesss
heats as needed, or when you turn on the faucet,
with steaming temperatures within seconds
Energy efficiency – conventional unit heats continuously even overnight
using energy you will pay for; tankless instantaneously heats when needed
Cost – conventional costs less upfront, but has up to a 50 percent shorter
lifespan
Call us to learn more about the pros and cons of each system. We can help you select the best style for your household in Ruston.
Ruston Tankless Water Heater Installation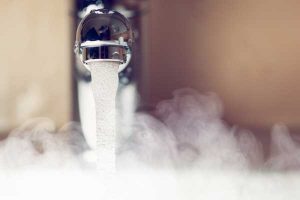 Not only are we here and available to offer facts and technical information but we are one of the premier tankless water heater installation plumber-contractors serving the Ruston community.
For handymen or do-it-yourselfers there may be significant reasons to call upon us for proper setup as recommended by manufacturers and dealers for safety reasons as well as protection of the warranty, ensuring a full lifespan, and optimizing its energy capabilities.
We have a full understanding of:
Electrical wiring
Working with the plumbing systems
Fuel types and sizes of gas lines
Methods and requirements for safe venting
Compliance requirements – specific standards and local building codes
Power, gas and water supply lines and connections to the unit
Call Joe the Pro Plumbing for professional services in Ruston that will exceed your expectations. We do it right the first time! 253-320-8558