Need an Honest Plumber in Fife? Call Joe the Pro!
As a full-service contractor since 1984, we have earned a time-honored reputation for honesty, integrity, great service and high-quality craftsmanship.
Our capabilities for residents of Fife are extensive, including:
Residential plumbing services
Revitalization services
Bathroom transformations into luxury spas
Custom systems design with fixtures that complement architectural home aesthetics
Careful planning of drains, fixtures and pipes infrastructure
New installations, repair and maintenance
ADA-compliant upgrades that promote independence
Call us for projects large or small. We have a passion for fulfilling each job right the first time!
Residential Plumbing Services for Fife Residents
When you call, you can count on us to meet all of your needs for residential plumbing services rather than dealing with multiple contractors. From small plumbing repairs to remodels and new construction, we have the experience, expertise and capabilities for servicing residents of Fife with:
A full spectrum of general plumbing solutions
Installations of bathroom fixtures
Sewer repair – root intrusion, cracks and breaks
Tankless water heaters – installations and repairs
Re-piping
Water purification systems – service and installations
ADA-compliant upgrades for creating an independent living environment
Drain cleaning
Bathroom remodeling with design solutions to fit every budget
…and more
Call us for projects large and small. As full-service contractors, we provide comprehensive services, repairs, maintenance, and beautiful remodels to transform your bathroom by highly-qualified professionals. And we take great pride in doing it right the first time!
Fife Plumbing Repair – Leaky Faucets to Remodels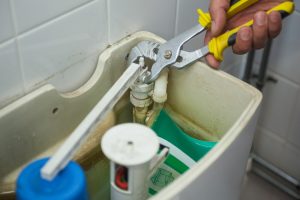 We understand the frustration and inconvenience of having leaky faucets or clogged drains that take you out of your normal routine. With highly-qualified professionals that are well-versed in latest industry best practices and applicable codes, our services are second to none.
We can pinpoint water leaks and sewer line problems with minimal disruption, and provide dependable repairs, and maintenance solutions with quick response. We offer a variety of plumbing repair services for residents of the Fife area, such as, but not limited to:
Sewer line repair and drain clearance
Damaged, burst or cracked pipes
Leaky faucets and running toilets
Clog removal and drain cleaning
Plumbing fixture repair
Tankless water heaters
Re-Piping
We also offer bathroom remodeling services that may be as simple as fixtures replacement, or transformation of a tired bathroom into a luxury spa.
Call Joe the Pro Plumbing for all of your servicing and repair requirements, or to schedule a consultation to discuss a bathroom remodel. 253-320-8558