Need an Honest Plumber in Tacoma? Call Joe the Pro!
As a full-service contractor serving the Tacoma area, we offer a full range of residential plumbing services as well as custom-design and construction. From leaky faucets to upgrades in your plumbing system, we are committed to providing high-quality craftsmanship and honest services, following industry best practices, and installations meeting provisions of the applicable code.
Whether we are designing and installing drains, pipes and fixtures, or remodeling a bathroom, our goal is to provide both form and function that are consistent with the architectural framework of the home, as well as efficient provision for future services and potential upgrades.
These are reasons that our customers depend on us:
Attention to even the smallest details
Our honesty and integrity
Family-owned and operated
High-quality craftsmanship and expertise
A+ rating by the Better Business Bureau
We invite you to join the list of repeat customers and ever-growing number of new clients that depend on Joe the Pro and crew to do it right the first time!
Residential Plumbing Services for Tacoma Residents
In a business like ours where systems are used more frequently than any others in the household, we emphasize the importance of hiring a reputable contractor for plumbing services. As a one-stop service destination, we offer high-quality residential plumbing repair service, construction and remodeling services along with solutions such as energy-saving advice.
The following is a list of our common services for residents of Tacoma:
General plumbing
Sewer repair
Tankless water heaters
Water purification systems
Piping
ADA-compliant elevated toilets, grab bars, walk-in tubs, and zero barrier showers
Re-piping
Repair and installation of bathroom fixtures
Custom design and remodeling – bathrooms
…and much more
Call us today for exceptional installations, repairs, custom-designs and remodels of bathrooms.
Tacoma Plumbing Repair – Leaky Faucets to Remodels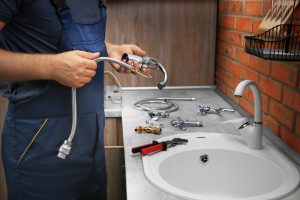 With a team of some of the finest professionals, we take great pride in providing installations, maintenance services and repair solutions for residents in the Tacoma area.
Whether your request for services involves a large or small project, we have the experience, knowledge and capabilities to resolve a broad range of plumbing repair needs, such as:
Sewer line repair, replacement and drain clearance
Tankless water heaters
Re-piping
Repair of leaky faucets and new installations
Repair of clogged drains and fixtures
Emergency leak repair
Water purification systems
…and more
In addition to an extensive list of repairs, you can also call us for plumbing systems design for remodels or new construction and luxury bathroom remodels with upgrades that are innovative, cost-efficient and functional.
Call Joe the Pro Plumbing for exceptional service and a reputation for doing it right the first time! 253-320-8558